ECOLOGICAL
ENGINE-OFF REFUELLING POWERED BY BATTERIES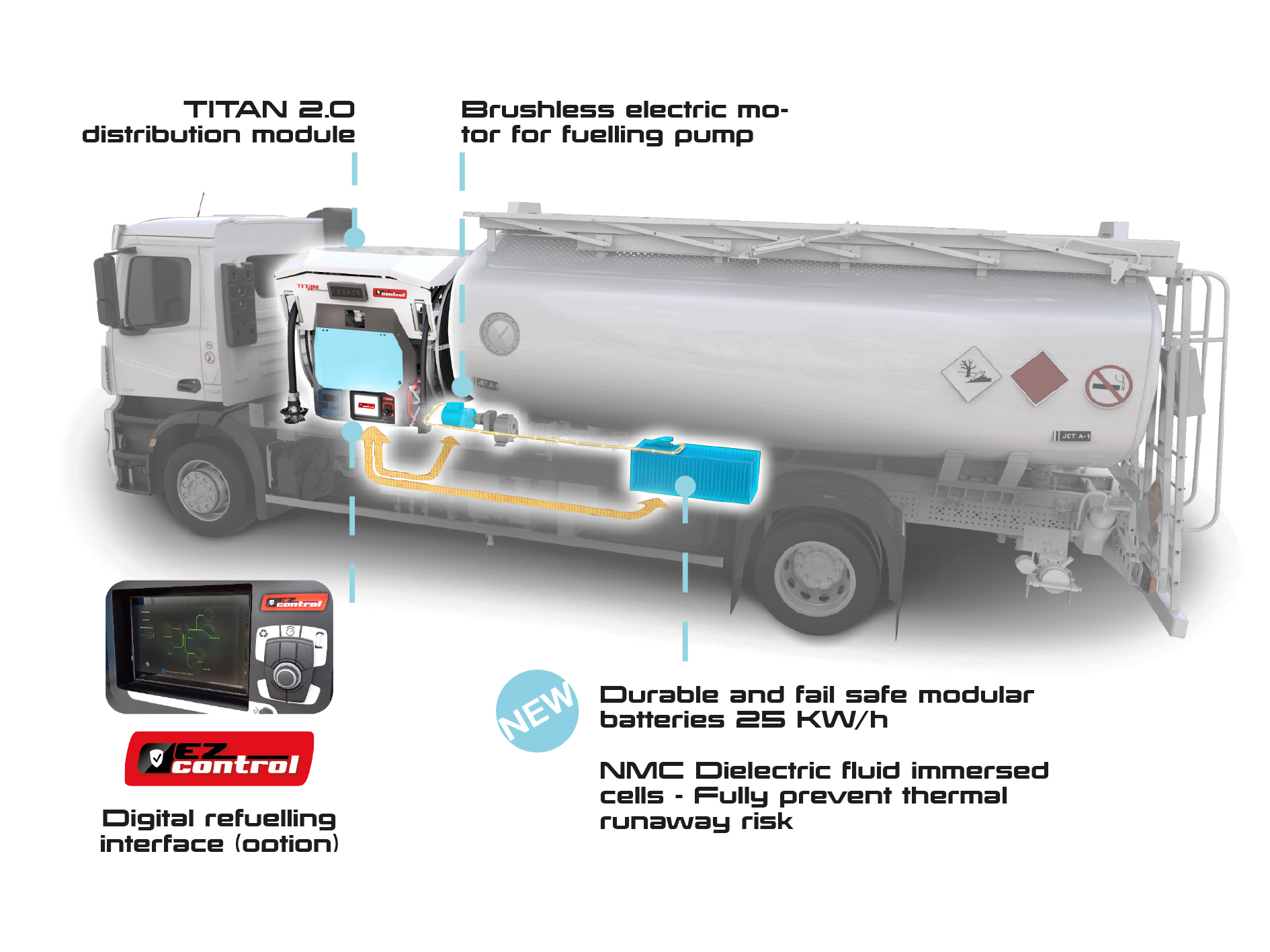 THE MOST ECONOMICAL SOLUTION TO IMPROVE YOUR CARBON FOOTPRINT
EZ FLOW is the electric refuelling technology developed by TITAN AVIATION. This engine-off refuelling solution, powered by fast charge batteries, combines green and digital refuelling in one single aircraft refueller. This technology is the first step for carbon reduction journey!
With this electric refuelling solution, users can make zero emission operations, reduce their maintenance and fuel consumption costs, improved the ecological impact of refuelling, enjoy better conditions without noise, engine heat or vibration... This is the best ecological solution for refuelling !
The comfort is also improved for operators thanks the digital interface EZ Control, integrated in new EZ FLOW vehicles. This refuelling assistant is an ergonomic and safe interface for refuellers, with easy access to refuelling information, safety alerts and easier maintenance.
This new version of EZ FLOW technology is now equipped with 25 KW batteries, to improve the pumping capacity to 125 KL without recharging.
PUMPING CAPACITY (without recharging): at least 125 000L

RECHARGING TIME: 5 hours with fast charger / 2 hours with ultra fast charger

FLOW RATE: up to 2500 Lpm

BATTERY LIFETIME: at least 8 years (ultra-long life performance)

BATTERY PERFORMANCE: 25 KW - NMC dielectric fluid immersed celles - Fully prevent thermal runaway risk
REDUCED MAINTENANCE & FUEL CONSUMPTION COSTS
ERGONOMIC DIGITAL INTERFACE
IMPROVED ENVIRONMENT FOR OPERATORS